by CJ Verburg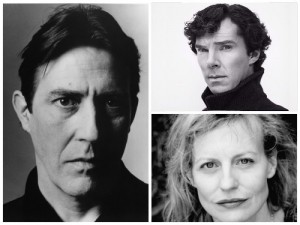 As previously posted (July 18), I was thrilled to get the very last $20 ticket to the National Theatre's NT Live broadcast of Hamlet at San Francisco's Sundance Kabuki Theatre in November. Who could resist this all-time all-star cast? — with Benedict Cumberbatch as the prince, Anastasia Hille as Gertrude, and Ciaran Hinds as Claudius. (And who knew that both Hinds and Hille have played Lady Macbeth?)
Turns out I was luckier than I realized.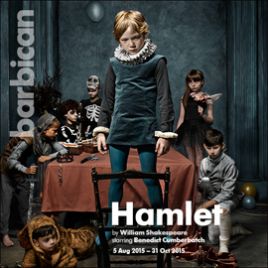 Today's online London Theatre News (#991) contains a SPECIAL OFFER:
Only £289 – pre-theatre two course dinner at Gaucho Smithfield and a £250 ticket to Hamlet

Valid Evening performances until 31 August 2015
I guess I shouldn't be surprised. The Telegraph reported that this is "the most in-demand theatre production of all time" — and that was a YEAR before Shakespeare's masterpiece opens at London's Barbican Theatre on August 5 [2015]:
"Hamlet tickets went on sale at 10am on August 11 [2014] and within minutes fans were expressing frustration at finding themselves more than 20,000 places back in the queue."
With 2 weeks to go until opening night, there are no reviews yet, but that hardly matters since the entire run of the play was sold out months ago. Here's the terse listing in London Theatre Guide:
As a country arms itself for war, a family tears itself apart. Forced to revenge his father's death but paralysed by the task ahead, Hamlet rages against the impossibility of his predicament, threatening both his sanity and the security of the state.
If I were director Lyndsey Turner I'd be quaking right now. All the way to the bank.