JUST IN TIME FOR HALLOWEEN!

ZAPPED: an Edgar Rowdey Cape Cod Mystery
by C J Verburg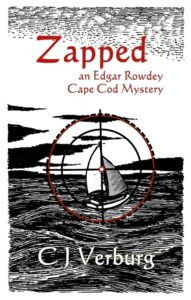 A posh seaside lawn party. To Cape Cod inventor Pam Nash, it's the ideal launch for Zappa, her new "Taser for pacifists." To her daughter Ashley, in Las Vegas getting divorced, it's the ideal way to shake off a stalker and celebrate turning 21. For Lydia Vivaldi and Mudge Miles, sous-chefs at Leo's Back End, it's a catering opportunity they can't refuse. But when a reveler is found dead in the water off the Nashes' dock, it's time for local artist, author, and eccentric genius Edgar Rowdey to turn sleuth before the killer destroys Pam, her family, and Zappa.
Publication date: Halloween (October 31, 2016)
Available NOW (wholesale or retail) from Ingram, Baker & Taylor, or Amazon – ask your local bookstore
Read a sample below

If you're on Cape Cod:
Meet the author and the book in person
at the Edward Gorey House, 8 Strawberry Lane, Yarmouth Port
5 PM Thursday, October 13
Wine, snacks, good company, fabulous art, and prizes!
If you're in San Francisco:
Join us at Canessa Gallery, 708 Montgomery St., across from the Transamerica Pyramid
5 PM Sunday, October 30
Hosted by the Telegraph Hill Dwellers
Wine, snacks, good company, prizes, costumes (optional), & video!
Check back for further details as they become available.
ZAPPED: AN EDGAR ROWDEY CAPE COD MYSTERY
Chapter 1: What Happens in Vegas
Thirteen startled Las Vegas shoppers halted when Ashley and Danny Dillon came waltzing across the marble floor of Soignee: a Boutique.
Danny, muscular and golden-haired at 46, still moved with the agility of a tennis coach. Ashley, tanned and blonded by a month in a thong bikini, mirrored her father's steps as if they'd rehearsed.
The Dress—a Justina Malo confection in blue-green silk—clung when they clung, and billowed when they twirled.
Gamblers paused on their way to the casino. Tourists clapped and held up cell phones. They Tweeted, e-mailed, posted on Facebook, YouTube, and Instagram.
Of the 3,437 people who would eventually watch this ad hoc floor show, not one linked it to the near-disaster two nights ago at the Bellagio pool.
Who'd recognize the dazzling girl in swirling chiffon as the limp body that had been dragged out of the water, strapped to a stretcher, and rushed away in an ambulance?
Who'd recognize her partner as the frantic father who'd sneaked her back into the hotel yesterday in scarves and sunglasses?
She's alive. That was the spar Danny clung to. We made it. What if that waiter hadn't spotted her? What if the ER doctor simply turned it over to the cops instead of phoning her dad in Florida?
What if her bottle of Elevane had been full instead of half empty?
Danny had broken the news to his ex-wife from Palm Beach Airport. Easier on everybody: he could deflect Pam's panicky questions, and she could insist on paying his expenses instead of drop-ping everything to fly out from Cape Cod. Neither Ashley nor her mom wanted that.
Back at the Bellagio, they called Pam together. No worries.
Just a scare. You stay focused on your Zappa launch. We'll talk more soon.

Blame could wait. What the hell kind of mother (OK, parents) would leave a fragile kid like Ashley alone, unprotected, twenty-eight hundred miles from home? Later. Top priority now was to be here for her. Get her back on her feet, out of that damn room. Squire her around the Strip, the casinos, the buffets, the shops, the Dancing Fountains. Buy her the dress of her dreams. And, having maxed out his MasterCard, pray that Pam would cover the whole trip.
But screw the cost! Danny Dillon's number-one priority was his daughter's happiness.
Number two was to nail the evil twisted sick-minded fuck who'd tried to kill her.
* * * * *
In Ashley Dillon's mind, that ring of smiling faces and clapping hands was a 20th Century Fox production team begging her to star in their upcoming remake of The King and I.
How could she help but be a winner in this dress?
She'd recognized it instantly. The exact same Justina Malo that Angelina Jolie wore on her goodwill tour of those dusty countries full of tents and starving children. Looking like an angel, with the floating shoulder panel draped respectfully over her head. What did that TV newsman call her? "Madonna of the Maghreb."
Ashley rarely watched the news. But when you were stuck in a hotel all by yourself, after your unfuckingbelievably selfish roommate ran off with some cowboy she met at New York New York, what choice did you have?
It made her cry, comparing Angelina and Brad's beautiful marriage to hers, which she was in Las Vegas to terminate. Still, Danny had a point: Didn't Angelina burn through two other husbands before she found Brad Pitt?
Ashley Dillon was way younger than Angelina Jolie, and shorter, with shoulder-length corn-silk hair and eyes that shifted between green and blue. That dress matches my new contact lenses, she'd thought. OMG, if I could turn 21 in that dress, I'd never be
scared of anything ever again!
And an hour ago, there it was! Glowing in Soignee's window like a consolation prize from Fate.
Now was when Ashley's life passed before her eyes: dancing from pillar to pillar, aswirl in aquamarine chiffon, lit by popping camera-flashes. Not two days ago, so hysterical that a fistful of Elevane couldn't stop her shaking. Not yesterday, puking her guts out in the hospital, harassed by people pecking and pecking at her with stupid questions. Now, with her dad's strong safe arms around her.
He spun her with one hand and caught her with the other. The 20th Century Fox reps applauded and aimed their cell phones. Sun filtering through the arched skylight and wrought-iron fretwork cast lacy shadows across her wafting skirts.
"Ta da!" Danny bowed.
"Thank you!" Ashley made a grand curtsey.
"So let's go have a drink by the pool, babe, and take a look at those death threats."
* * * * *
Twenty-eight hundred miles away, Phyllis Nash held the cleated main sheet with her right hand, her luffing head-scarf with her left, and raised her voice over the wind.
"Trust your stepdaughter to stage a crisis on Desolation Day!"
Harry Nash answered with what might have been a grimace or a grin. "I doubt she timed it for us."
Mother and son sat knee to knee in the cockpit of their Herreshoff daysailer, squinting out at the rising and falling surface of Nantucket Sound.
Thin leather driving gloves covered Harry's burn-scarred hands. Aviator glasses and a broad-brimmed canvas hat protected his shiny seamed head and dented face from the sun. The hat fastened under his chin with a bead, like his favorite boyhood Stetson. Four years of plastic surgery had left him looking remarkably like the Harry Nash in Phyllis's family albums, including his permanent half-smile.
"She's all right now, isn't she? Out of danger?"
"Hard to say." Harry shrugged. "Danny's bound to downplay it till he finds out what the hell's going on."
"I do feel for the poor girl." Phyllis, being a diplomat's widow, conceded that at her age she was fortunate to have not only regained a lost son but added a daughter-in-law and a granddaughter. "The one time she acts sensibly. Dumping that horrid husband. You know, it won't surprise me if he's behind this."
"We'll see what Danny finds out." Harry, being a war veteran, conceded that Ashley Dillon was a loose cannon. "Hell of a thing for Pam, anyhow. Like she hasn't got enough cops, colonels, and whatnot breathing down her neck."
"How such a gifted woman could produce such a feckless child!"
"I told her, Take some time off. Go talk to Edgar Rowdey. He's an expert on mystery stalkers."
Phyllis nodded approval. "Sufficient unto the day are the evils thereof."
On the first Sunday in August eight years ago, the convoy carrying Harry and Scott Nash into an Afghan village had hit a booby trap. The remains the Army later extracted from the rubble were so fragmented that the brothers' whole unit was presumed dead.
Phyllis claimed that losing both his sons literally broke her husband's heart. Exactly one year later, Vernon Nash took a nap after lunch and never woke up again.
In Harry's opinion, it would make more sense to celebrate his own resurrection than the deaths of Vern and Scotty. Harder to pin down, admittedly. His recollections of the ambush were patchy. Smoke and dust too thick to breathe. Scorching heat. And noise! A roar like the end of the world. Gunfire, men screaming, a dog howling, flames crackling . . . and blackout.
He'd awakened in agony, jolting down a rutted dirt road on an oxcart.
As for the milestones in his struggle toward recovery, those he was glad to forget.
That was Harry Nash's Afghanistan: a bottomless pool from which his nightmares rose and circled like sharks.
Phyllis knew this. She'd nodded her head when he explained it—sculpted platinum-and-pewter hair, sable lashes, penciled brows—but he could see it didn't sink in.
Her Afghanistan was a monster that had devoured her family.
She shouted again over the wind. "Will Ashley stay in Las Vegas till the divorce is done?"
"That's the plan. You know, it's not just Pam's Zappa bash she'll miss. Her twenty-first birthday is next week."
"You know what I say to that," Phyllis adjusted her Audrey Hepburn sunglasses. "Let her eat cake."
Two summers ago, Ashley had (in Phyllis's view) tried to ruin Pam and Harry's Cape Cod wedding by turning a toast to the bride and groom into an announcement of her own engagement. This after her fiancé showed up at the ceremony in ragged denim shorts and an ill-cut plaid jacket.
"But enough of Ashley," said Phyllis. "This is our day! Let's observe it in peace."
Every Desolation Day they sailed into the past. With Vern's diplomatic duties shuttling him around the globe, the Nashes had rarely taken traditional vacations. Several times an uprising sent the boys off to boarding school, or home to Bethesda. Wherever they were, at least once a year the four of them gathered at the Nash Cottage on Compass Point for a voyage aboard the family sloop.
"Ready about!" barked Harry.
The farthest they'd go in this little daysailer was the crocodile crags and flashlight-battery lighthouse of Bishop and Clark's. But in their memories they cruised around Monomoy Island, up the Cape's long sandy arm past Provincetown, past Scituate and Nantasket . . .
"Hard alee!"
Over went the tiller. Down went their heads, to avoid the swinging boom. Out flew the mainsail. The ropes, damp with sea-spray and hot from the sun, rasped through Phyllis's hands.
She nudged her son's twisted shoulder. "Living well is the best revenge!"
"And who could live better than this?"
That was the real point of Desolation Day. The two surviving Nashes couldn't get back what they'd lost: loved ones, physical agility, years of grief. But they had this consolation prize: a sunny August afternoon gliding across the water, a salty breeze riffling their jackets, filling their sails, and stirring their memories.
Phyllis never talked about Vern's death. Nor did she ever ask Harry about the ambush that killed Scott. He'd told her the whole grim story when he first came home. Ever since, if anyone raised the subject, she changed it.
The Harry Nash who'd enlisted to serve his country in Afghanistan would have been touched. Such a delicate soul, his mother, that even the passing of an old man in his sleep was too painful to recall. The Harry Nash who'd come back, who'd seen dozens of young men blown to shreds, stifled an urge to ask her: Why so squeamish? What are you hiding?
Squeamish? Phyllis wouldn't leave the house unless her clothes, hair, and makeup were perfect; yet here she sat without a qualm, her thigh against his, looking into his distorted face with open affection.
For his survival Harry credited genes, training, the villagers who'd dug him out, and the doctors who'd pieced him back together. For his marriage to Pam, he congratulated himself on his superhuman charm. For Phyllis's devotion, he could only thank God.
She smiled as if she'd overheard his thoughts. "We've been lucky."
"Yes."
"I do hope Danny and the police can put an end to this thing without Ashley sucking Pam into it."
"If she does," Harry wiped sea-spray off his sunglasses, "I'll kill her myself."