by CJ Verburg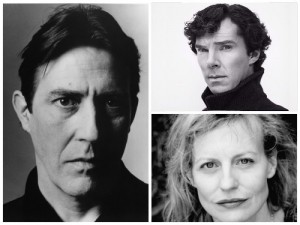 OK, gotta go to London in September.
I thought I'd dodged the bullet when I seized the very last ticket to the National Theatre Live's November San Francisco broadcast of Hamlet–an all-time all-star cast, with Benedict Cumberbatch as the prince, Anastasia Hille as Gertrude, and Ciaran Hinds as Claudius. (Who knew both Hinds and Hille have played Lady Macbeth?)
Now here comes Anthony Horowitz over the horizon with both barrels loaded.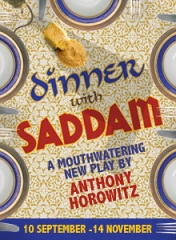 London's Menier Chocolate Factory will debut his new play Dinner with Saddam on Sept. 10:
"Saddam, fearful of assassination attempts, was known to move regularly from private home to private home. Even before the war, he declined to spend nights in one of his palaces." USA Today, 20th April 2003
So what happens when Saddam Hussein turns up on your doorstep and announces he is staying for dinner?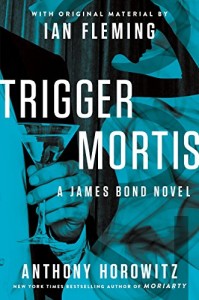 And if that's not enough, Horowitz has incorporated material by Ian Fleming into a new James Bond novel, Trigger Mortis, due out Sept. 5.  We're promised "a thrilling tour de force" which "recreates the golden age of Bond, packed with speed, danger, strong women and fiendish villains."
Rumor has it Pussy Galore (Goldfinger) will make a reappearance. That's a relief. I just noticed a closed accordion gate yesterday on her sister's jewelry shop in Chinatown, Jade Galore.
How soon can we expect the movie? Dare we hope for a cameo by Honor Blackman?–maybe sipping a poolside drink with Sean Connery?
Another pair who'd make a terrific Gertrude and Claudius.