by Carol Verburg
When my friend, Cape Cod neighbor, and theatrical comrade Edward Gorey died in April 2000, I moved (temporarily) into his house.  His executors wanted someone to keep an eye on his enormous trove of art; and I'd promised Edward that if anything ever happened to him, I'd look after his cats.
One of the first people I called at this grim time was Chris Seufert.
Edward and I had met Chris at C3TV, Cape Cod Community Television.  Later Chris asked Edward for permission to follow him around with a camera and shoot what would eventually become a film.  Since Edward wanted someone to videotape his puppet show of Cautionary Tales for Children — our first production at the Cotuit Center for the Arts, soon to be our theatrical home — he cautiously agreed.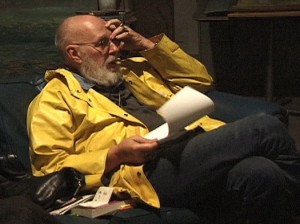 Chris is endlessly patient and cheerful as well as perceptive and creative — a good match.  He caught hundreds of beautiful moments and trenchant insights on film.  After Edward's death, Chris brought over his camera and recorded this brilliant artist's private domestic landscape just as his executors started to dismantle it.
Now Chris's company, Mooncusser Productions, is preparing to release the film.  Want to be part of it?  Join the fun on Kickstarter!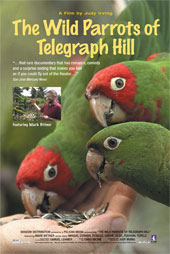 Once Edward's house was squared away, and my own, too, I moved to San Francisco.  That's where I met the remarkable filmmaker Judy Irving.  She was just finishing her wonderful film The Wild Parrots of Telegraph Hill, an affectionate portrait of our neighborhood's beloved flock of birds and the man who befriended them, Mark Bittner.
Over the past several years Judy has focused her creativity, patience, and insight on pelicans.  She's now completing a glorious film about these extraordinary birds, which I've enjoyed at two rough-cut screenings.  If you'd like to watch pelicans soaring across the sky, skimming the waves, and flying under water, as well as peek into many secret parts of their little-known lives, join Pelican Media and friends by becoming a supporter of Pelican Dreams on Kickstarter.