by CJ Verburg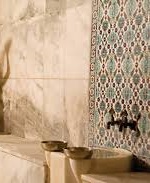 I fell in love with Turkey–especially Istanbul–more than twenty years ago. A friend discovered a travel agency that would book our trip and then get out of our way. We stayed at a tiny, recently refurbished hotel between Hagia Sophia and the Blue Mosque; we walked everywhere. Each day started in the top-floor dining room overlooking the sea, and ended in a basement hammam with tiled walls, brass spigots, and a heated marble table to sluice off the day's grime. I spent my birthday sailing up the Bosphorus to step for the first time into Asia.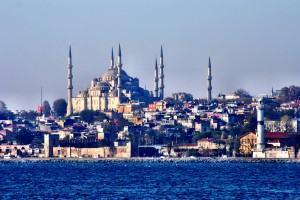 This was long before the U.S. had heard of Recep Tayip Erdogan or Osama bin Laden. As we roamed fearlessly from mosques to restaurants to the Grand Bazaar, we were often asked (in halting English) where we came from and what we did in America. My friend was a nurse; everyone understood that. I was a writer; no one understood that, until I added, "Like Yashar Kemal." Ah! Yashar Kemal! Yes! Wonderful!
What author's name would be so widely recognized and hailed back home?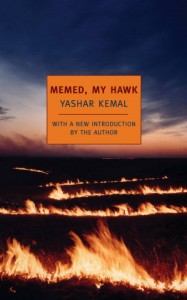 "Some books are so famous they need no introduction," observed The Guardian. "But have you ever read Yashar Kemal? His first novel, Memed, My Hawk (NYRB Classics), set in the south-east of Turkey and about a young man at war with feudal authority, was published in the 1950s and brought him international fame. It is still greatly loved in Turkey, and with good reason."
Yashar Kemal is the pen name chosen by Kemal Sadık Gökçeli after a series of clashes with (and imprisonments by) the Turkish authorities. I discovered his shorter pieces first, and was staggered by the brutal "A Dirty Story," which I included in Ourselves Among Others, my international anthology for U.S. college students. Not until much later did I read (and love) Memed, My Hawk, which tempers the harshness of peasant life in Anatolia with rebellious cheer and compassion. Yashar Kemal lived into his 90s; I hope that when he died earlier this year, the appreciation he had won at home and worldwide outweighed his concerns about his government's political backsliding.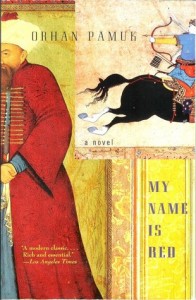 Foreign literature–even Turkish literature–is no longer so hard to find in English. Many American readers are familiar with Orhan Pamuk, who in 2006 received the Nobel Prize which many (including Pamuk) believed Kemal should have won decades ago. The Culture Trip's list of Ten Best Contemporary Turkish Writers notes: "Turkey has produced some of the most esteemed writers of the twentieth century, with literature varying from politically entrenched revolutionizing poetry, to fictional novels highlighting the exotic mysteries of Turkish country and culture." Their list even includes a woman: Elif Shafak, born in 1971, is the author not only of several successful books but a TED talk, The Politics of Fiction.
From Yashar Kemal's "A Dirty Story" (1967):
The three of them were sitting on the damp earth, their backs against the dung-daubed brush wall and their knees drawn up to their chests, when another man walked up and crouched beside them.
    "Have you heard?" said one of them excitedly. "Broken-Nose Jabbar's done it again! You know Jabbar, the fellow who brings all those women from the mountain villages and sells them in the plains? . . . The lads of Misdik have got together and bought one of them on the spot, and now they're having fun and making her dance and all that . . ."
    "He's still got the other one," said the newcomer, "and he's ready to give her away for a hundred liras."
    "He'll find a customer soon enough," put in another man whose head was hunched between his shoulders. "A good woman's worth more than a team of oxen, at least in the Chukurova plain she is. You can always put her to the plow and, come summer, she'll bind and carry the sheaves, hoe, do anything. What's a hundred liras? Why, a woman brings in that much in one single summer. In the fields, at home, in bed. There's nothing like a woman. What's a hundred liras?"
From Elif Shafak's The Bastard of Istanbul (2008):
As Zeliha rushed by, the street vendors selling umbrellas and raincoats and plastic scarves in glowing colors eyed her in amusement. She managed to ignore their gaze, just as she managed to ignore the gaze of all the men who stared at her body with hunger. The vendors looked disapprovingly at her shiny nose ring too, as if therein lay a clue as to her deviance from modesty, and therefore the sign of her lustfulness. . . . Be it the harassment of men or the reproach of other women . . . there was no power on earth that could prevent Zeliha, who was taller than most women in this city, from donning miniskirts of glaring colors, tight-fitting blouses that displayed her ample breasts, satiny nylon stockings, and yes, those towering high heels.