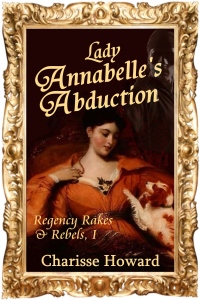 A is for Lady Annabelle's Abduction: a Regency Rakes & Rebels Novella
by Charisse Howard
A kidnapped bride, a ruthless earl, a ransom that must be paid before sunset, and a persistent spaniel.
In one week, Lady Annabelle Chatfield will sacrifice herself and her future to save her desperate family.  But oh, if her reckless brother Stephen had to die in debt, couldn't he have picked a younger, handsomer creditor? Must she marry the dumpy old Earl of Brackenbury?
Like so many wishes, Lady Annabelle's comes true, but not in the way she hoped!  When a ruthless stranger scoops her out of bed at midnight and carries her off to his secret hideaway, marriage to Brackenbury starts looking like Paradise Lost.
But more surprises lie ahead; and before this harrowing adventure ends, Lady Annabelle's mind, heart, and body will open up in ways that will change her life forever.

"Full of suspense and romance set in the authentically presented Regency era" — Long & Short Reviews
Click HERE to read an excerpt of Lady Annabelle's Abduction: a Regency Rakes & Rebels Romance
E-book $2.99 on Amazon
Audiobook $6.95 on Amazon, iTunes, Audible
Both FREE for Amazon Prime or Kindle Unlimited members