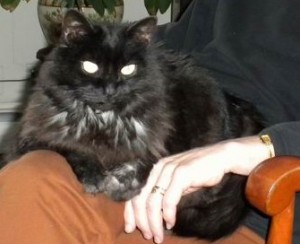 by C J Verburg
I picked my late cat Grusha because she was born on Cape Cod right around the time my friend and neighbor Edward Gorey died. If souls do by any chance migrate, I figured he'd come back as a cat — most likely a delicately etched black-and-white one.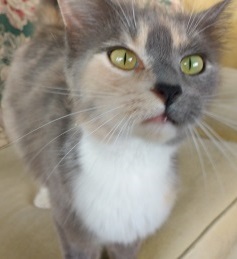 Edward embraced all cats. I wish he could share the pleasure of getting to know my new one, Roo. Her harlequin coloring and sweet disposition are happy reminders of every cat who's shared my home over the years . . . and Edward's home, too: her nose is George, her bib is Weedon, her face is half Alice and half Thomas, and her back is a pastel Jane. Those are the five cats Edward was down to by the end of his life, each with a plain English name for daily use, and a secret Japanese name from his favorite book, The Tale of Genji.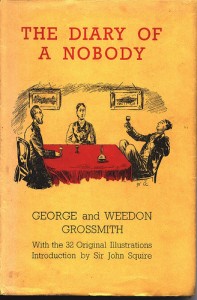 (George and Weedon Grossmith, among their many talents and enterprises, wrote the comic English novel The Diary of a Nobody. Hugh Bonneville, lately famous as Lord Grantham of Downton Abbey, proved his thespian chops years earlier by starring in a mesmerizing film of that unfilmable book. George Grossmith also pops up in the Gilbert & Sullivan biopic Topsy-Turvy.)
Now an innovative thespian troupe in New York has staged a play written and directed by Travis Russ, in which three actors play Edward Gorey in a life imagined by Russ from his own life plus a lot of reading and mulling. It's called Gorey: The Secret Lives of Edward Gorey, and it's playing at HERE, 145 Avenue of the Americas, through May 22. Reviews are strong enough that those of us who can't make it to Manhattan this month may get another shot.
Meanwhile, anyone curious about Edward's real life in the theater can still read/see/hear the whole story in my print and e-book Edward Gorey On Stage. One of my enterprises for this summer is creating an updated edition and adapting the book specifically for iPad.
The Agatha Christie mystery Edward and I once talked about setting at our friend Jack's breakfast-and-lunch cafe, Jack's Out Back, became Croaked: an Edgar Rowdey Cape Cod Mystery (also available in print and e- form). Its sequel, Zapped, is in the labyrinthine publishing pipeline. While I'm waiting, I've started a novella . . . peering (as I type) over the furry helper who's exploring my keyboard to assert her proper place as center of human attention.
Books. Cats. Life is good.