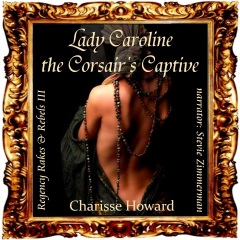 It's here! — the long-awaited audiobook of Charisse Howard's 5-star sizzling, suspenseful high-seas romance Lady Caroline, the Corsair's Captive.
Traveling with her parents in North Africa, Lady Caroline Grantby is literally swept off her feet by the dashing Comte de Gilordeau. But on their way home to London and happily-ever-after, the newlyweds' ship is attacked by Barbary corsairs. The twists and turns that follow will force Caroline to confront terrors beyond her imagination, and uncover a strength and a passion she never knew was inside her.

★★★★★  "A beautiful story! I loved loved it! The characters, the plot, even the ending was awesome!" — NRB, Smashwords
Will your holiday travels be this exciting?
Make sure they are! Click here to find the brand-new 3.5-hour audiobook or the e-book on Amazon, iTunes, & Audible (free for Amazon Prime, Kindle Unlimited, or Audible members).