by CJ Verburg
Coming up this week are three remarkable book-focused events.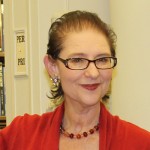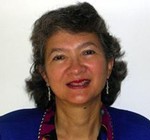 On Wednesday, Feb. 26, the Mechanics' Institute presents "The Inside Scoop on Book Promotion."  In a rare appearance on the stage instead of behind it, MI Events Director Laura Sheppard will reveal how she (and others who book author appearances) decides who'll fill her few coveted presentation spots. Professional publicist Isabella Michon will further illuminate the challenge of winning media attention for one's books. This special open-to-the-public meeting of MI's biweekly 5:30 PM Indie Publishers' Working Group promises to be a don't-miss event for every writer and/or publisher who's reached the end of his/her Twitter-Facebook-Reddit-Pinterest-Vine-YouTube tether.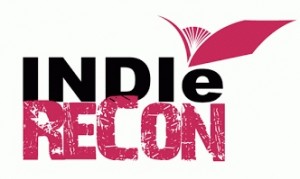 In the digital age, it was only a matter of time until that popular phenomenon the writers' conference went virtual. IndieReCon ("making indie-publishing a mission possible") offers a slate of online speakers and panels this coming Tuesday through Thursday on topics from "How to Write Fast" to "Getting Started on Goodreads." Highlight speakers include Indie-revolution pillars Joe Konrath and Barry Eisler (12 to 2 PM Tuesday), C.S. Lakin, Joel Friedlander, Mark Lefebvre, Joanna Penn, and David Gaughran.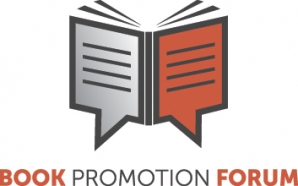 Another online highlight:  From 1:05 to 2 PM on Tuesday, Book Promotion Forum offers a free online webinar.  Berrett-Koehler's Vice President of Editorial and Digital David Marshall will share highlights from this year's Digital Book World Conference in an hour-long discussion with Book Promotion Forum President (and Berrett-Koehler Social Media Strategist) Kat Engh.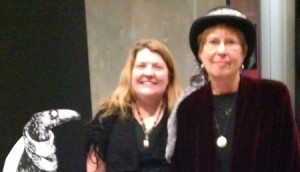 The evening was a blur at Edward Gorey's 89th birthday party at the Cartoon Art Museum on Thursday, celebrated by the guest of honor in absentia owing to his decease 14 years ago. The slideshow didn't function, but Fantod readings reliably predicted gloom all around. As Yerba Buena Third Thursday art fans drifted hither and yon, tea and wine flowed, and lovely macaroons and madeleines became food for memory, I read "The Osbick Bird," which also was read by Julie Harris, the late actress and FOE (friend of Edward's), at his 2000 memorial party in Yarmouth Port. For more, read Edward Gorey On Stage: a Multimedia Memoir.